Regular price
Sale price
$41.00
Unit price
per
Sale
Sold out
The LOVEme Journal - a self-love diary for 100 days is designed to encourage you to work on your personal growth, feel more self-love, and practice gratitude daily. With consistent use, your life will change for the better.
Christmas is a wonderful opportunity to spread the message "I am loved" during the festive season. These small, heartfelt messages are more than just pieces of paper – they are expressions of love, affection, and warmth.
LOVEme Journal 29.90€
Christmas cards 9.90€
Christmas stickers 8.90€
Free Shipping within Germany

60-Tage-Geld-zurück-Garantie

Sustainable packaging
shares
View full details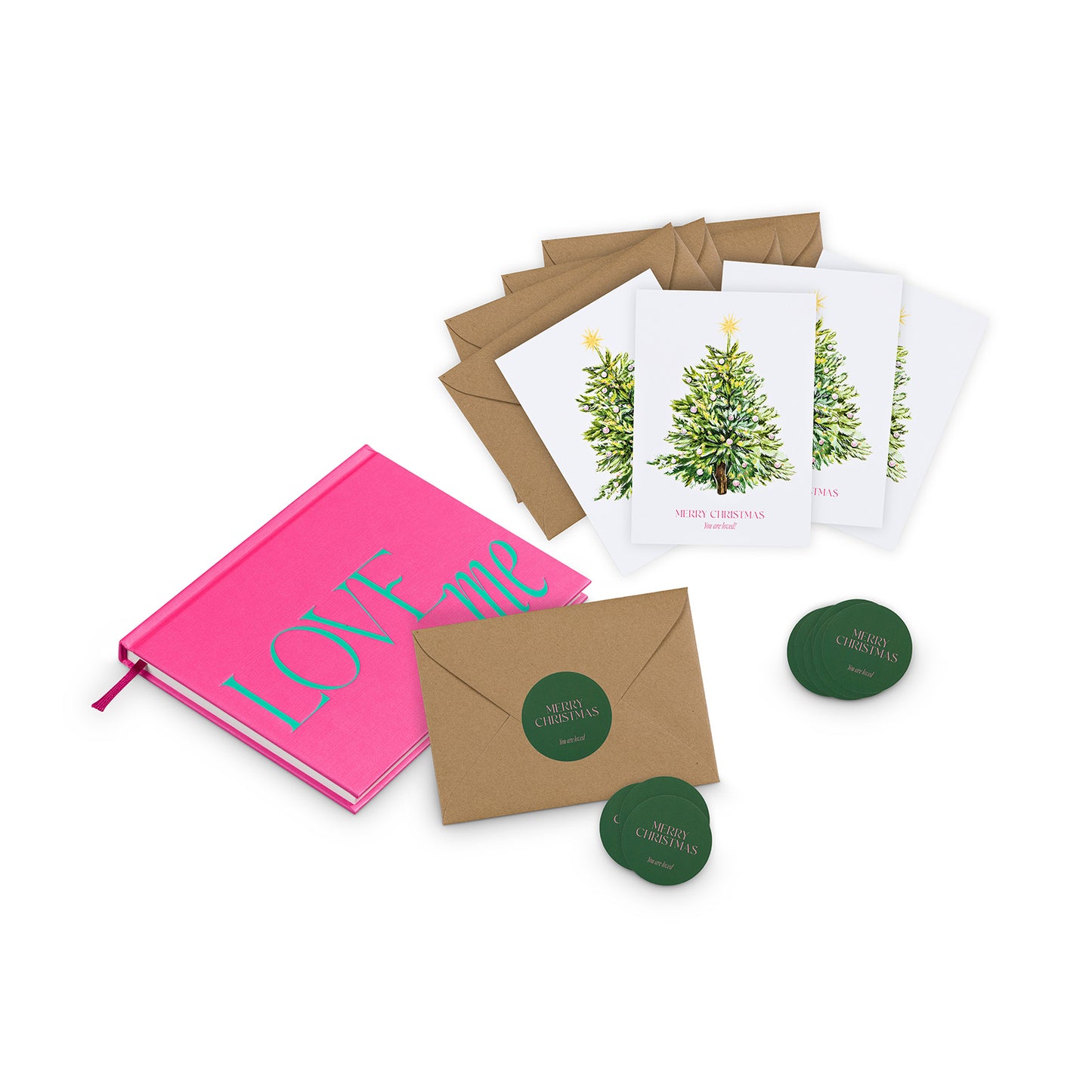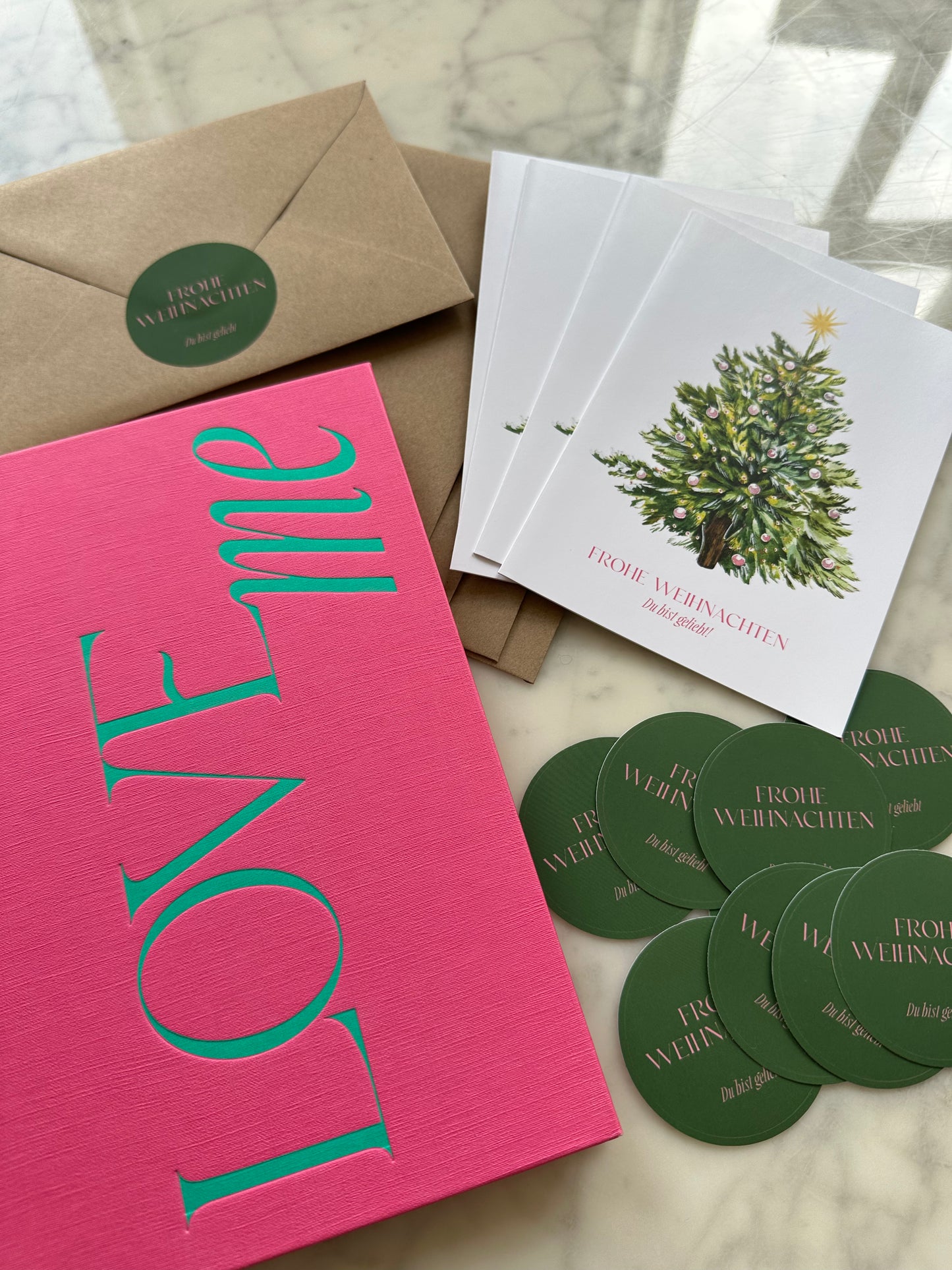 About the LOVEme Journal
A journal to daily record what you're grateful for, what you love about yourself and which affirmations reflect your best life. It takes 3-5 minutes to fill out each day. In the first 6 pages of the journal, you'll find various exercises to strengthen your self-love. Scientific studies confirm that people who begin their day mindfully are more balanced, successful, happier, and kinder to themselves and others. Through the daily practice of gratitude, self love and affirmations you'll become more content with yourself and focus your attention on the things that are going well in your life.
This journal combines self-love, gratitude, and affirmations. These three elements will positively change your life! Additionally, it's also an ideal decorative item.
Start now and take daily time for yourself and your journal, or gift this book, whether to adults or children (from 8 years onwards).
Why the LOVEme Journal?
Self-love

In the first 6 pages of the journal you have various exercises to practice more self-love.

Mindfulness

A journal to write down daily "what you are grateful for - what you love about yourself - which affirmations reflect your best life".

Science

People who start the day mindfully are scientifically proven to be more balanced, more successful, happier and nicer to themselves and other human beings.
Frequently Asked Questions
When should I write in the LOVEme Journal?

You can start your day balanced and happy with your LOVEme Journal. However, it's also a lovely habit to write in your journal before going to bed to close the day. You can even take it with you during the day. When you write in your journal doesn't matter – stay flexible. The key is to do it consistently.
How does the return process work?

Simply send the book in its original box as a merchandise shipment (€1.95) to:
Elena Miller
Wundtstr. 4
014057 Berlin
I already love myself. Is the book suitable for me as well?

The LOVEme Journal can assist you in deepening your self-love and improving your overall well-being, irrespective of whether you already love yourself. Self-love is a lifelong process and can always be intensified.
Is too much self-love narcissistic?

Narcissism teaches you to see others as competitors, while self-love encourages you to focus on yourself. The self-worth of narcissists relies heavily on external validation. When we feel self-love, we don't need to prove our worth to others because we know how complete we already are.
How can the book support me in achieving a healthier diet or more exercise?

Yes, this book will help you practice self-love daily. The more self-love we have for ourselves, the easier our lives become in all aspects. You should enjoy eating intuitively and want to move your body with pleasure. You'll find that it becomes much easier when you write in your LOVEme Journal every day.
How does the book help me have happy and fulfilling relationships?

It all starts with ourselves. Our partner is our direct mirror, which means they will show us where we still need to grow. However, this also means that if we have little self-love, it will be reflected back to us. "How you love yourself is how you teach others to love you." - Rupi Kaur.